20% Recurring 💰
20% recurring commission for up to a year on all new paid subscriptions.
🚀🚀🚀
With AddEvent's monthly plans ranging from $36 to $99 payouts can skyrocket.
45-day 🍪
Our 45-day cookie window maximizes the commission affiliates earn on sales they influenced.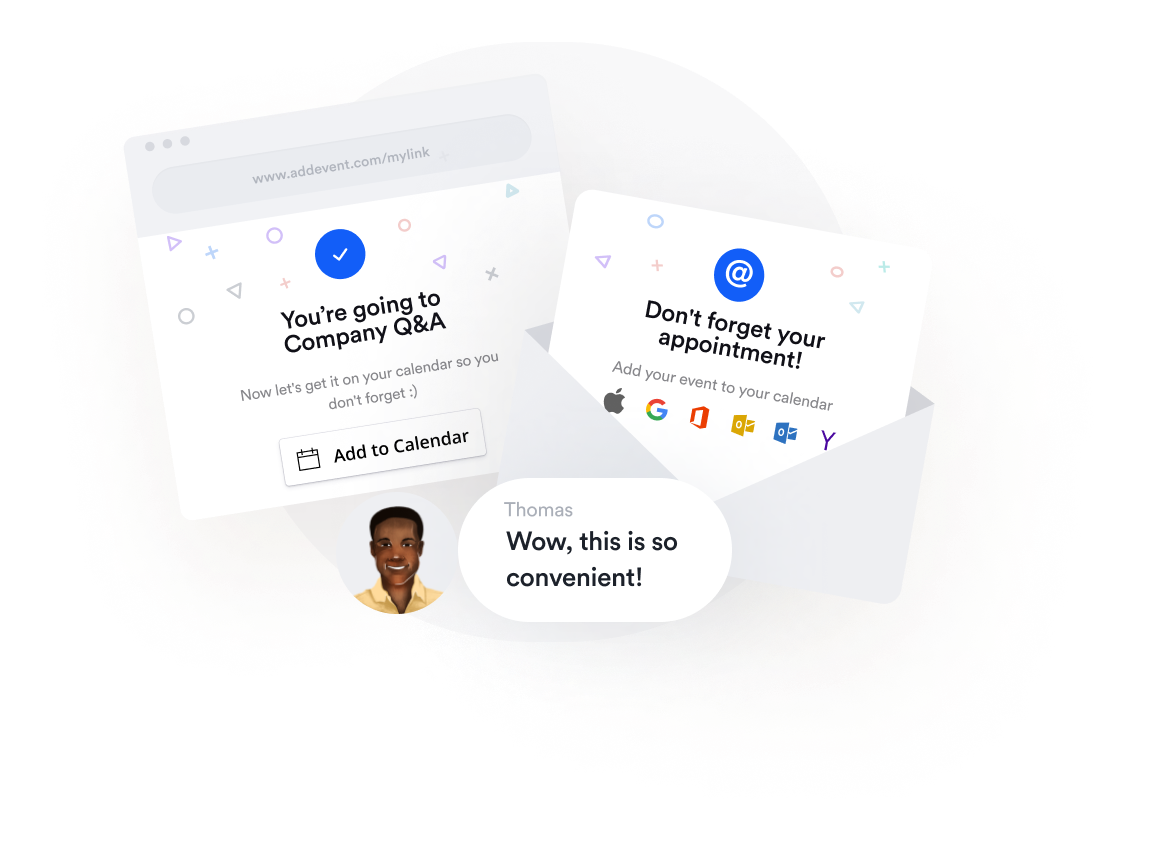 Why Join Our Program
When you join our affiliate program, you'll have the opportunity to earn a commission on every customer you refer to AddEvent. It's a win-win! You help your audience discover a valuable tool for managing their events while building trust with your subscribers.
As an affiliate, you'll receive a unique link that you can share with your audience. When someone clicks on your link and signs up for AddEvent, you'll earn a commission on their purchase. Plus, you'll get access to various marketing materials and support to help you promote AddEvent effectively.
The best part? There's no limit to how much you can earn! The more customers you refer, the more money you can make. And with our easy-to-use dashboard, you can track your earnings in real time.
Let your customers leverage our tools

to grow their business.
Customers Love Us
Our customers will thank you for introducing them to our toolset. They can use AddEvent to create landing pages, add easy-to-use buttons, create links for emails, and embed their calendars and event lists directly on their websites. Save them time and money while building their trust in your recommendations.
"I'm a new user but planning to keep using this - it's great! I'd love to share with a business community I'm in - I'd be sharing it with peers in the business world who run online businesses like mine..."
- Jess
IT Consultant
"
Out of all the apps addressing what Add Event does ... this app, I find, is the most user friendly AND works ..."
- Lana
Senior Event Manager
"I'm a long-time affiliate marketer who is very selective about the products I endorse and promote! AddEvent is the perfect program because all my students need it too!"
-Tiffany
Marketing and Advertising Agency Owner
"
We use AddEvent for our events, and members have asked about using it as well!

"

-Nancy
Project Manager
"It doesn't count if it's not on your calendar. Now it is! The ease of implementation when adding this to an existing WordPress website for a client was great."
-Cory
Small Business Owner
Don't wait!
Start promoting with AddEvent today.
Sign up now and start earning commissions on every sale you refer to AddEvent.
*Please Note: At this time, we are only accepting US-based affiliates due to privacy regulations*